Start Making Sense! Cinéma et art contemporains transforment l'essai.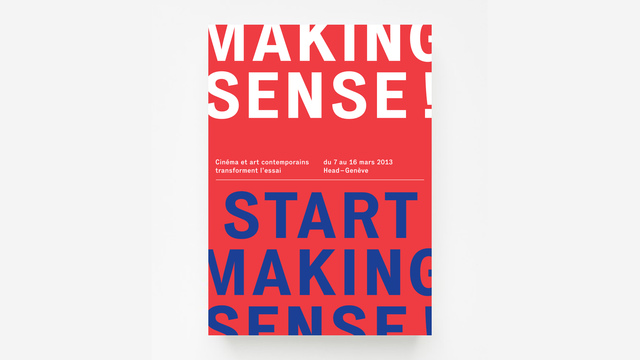 From March 7 to 16, 2013, the Cinema Department of HEAD - Geneva organizes a series of exhibitions, colloquia, conferences, meetings, screenings around the essay.
The essay, for more than fifty years, has been the very language of modern art; it is freedom, anxiety, research, spontaneity… " At a time of ever more fertile exchanges and hybridizations between contemporary art and cinema, this remark by Jacques Rivette seems more relevant than ever. Since Montaigne, the essay, if it does not summarize modernity alone, testifies in its heart of an anxious, critical and poetic research, at the crossroads of literature, philosophy, history of art and, for more than a century, of cinema. It is a heretical research, according to Adorno's word qualifying "the essay as a form", which never ceases to rethink the world while reflecting on its practices and languages, away from totalizing thoughts, playing with dominant genres and codes.
The Department of Cinema of the HEAD - Geneva, in collaboration with its partners (the University of Geneva, the Comédie de Genève, the Spoutnik cinema, the Cinémas du Grütli, the Centre d'art contemporain Genève), wished to question the active power of this "form that thinks" in an approach that is at the same time transdisciplinary, historical and prospective.
Through a series of conferences, screenings, programs, meetings and an exhibition at the curatorial space Live In Your HEAD, Start Making Sense! articulated a genealogical perspective and a cartography of the various forms and issues of the contemporary essay. From literary origins to cinema, from film editing to audio-visual editing in the exhibition hall, the nomadic energy of the essay* was questioned through critical reflections, but also and above all with the help of concrete cases (works, films, exhibitions).
Combining theory and practice, mixing artists and Swiss and international researchers, Start Making Sense! was in turn a thought experiment, a kind of essay on the essay, on the occasion of the various events and meetings that punctuated the nine days of this event.