The films of the Cinema Department at the 54th edition of the Visions du Réel festival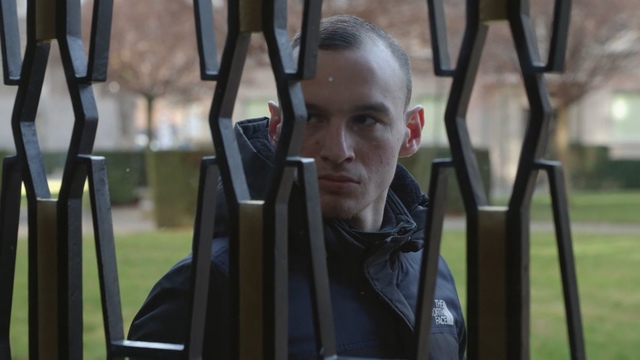 The Film Department of the HEAD - Geneva is very proud to announce the world premiere of Arthur Jaquier's Bachelor's degree film, as well as numerous alumni films, at the 54th edition of the Visions du Réel festival, which will take place from April 21 to 30, 2023.
The Bachelor 2022 Diploma short film L'arrestation de C. by Arthur Jaquier is selected in the Opening Scenes section, dedicated to first short films from film schools. The film's team includes several alumni and students, including Salah Eddine El Amri (image and editing with Arthur Jaquier), Juan Manuel Vegas (sound), Elijah Graf (assistant director), Sylvain Froidevaux (color grading).
Also presented in world premiere, the latest short film 2720 by Basil Da Cunha (Bachelor Cinema alumnus and teacher at the HEAD Cinema Department) which is part of the International Medium & Short Film Competition section.
---
---
---
Finally, the film Chagrin Valley by Nathalie Berger (teaching assistant in the Film Department) is selected for the National Competition. The director Elena Lopez Riera, a teacher in the Cinema Department, is part of the jury of the Burning Lights competition and will present her film El Agua in the Special Screenings section. The director Fisnik Maxville (alumnus Master HEAD-ECAL 2016) will be part of the jury of the competition Zonta.
---
In collaboration with the Department of Cinema of the HEAD, the festival Visions du Réel welcomes the Italian director, screenwriter and editor Alice Rohrwacher. A leading figure of a new generation of Italian authors, Alice Rohrwacher is a striking voice in contemporary cinema.
Awarded multiple times by the Cannes Film Festival and throughout the world, Alice Rohrwacher's work is unmistakable and has already made a lasting impression on contemporary production. Her work, which is part of a new generation of Italian directors steeped in the heritage of neo-realism and documentary film, such as Francesco Munzi and Pietro Marcello, with whom she directed the documentary Futura, has for several years now embodied a true renewal of Italian auteur cinema.
Alice Rohrwacher builds universes that border on social realism, sometimes taking inspiration from local newspaper reports, while mischievously diverting the attributes of a defined genre. Thus, when she does not evolve in the documentary itself, her work is part of an ingenious game of incorporation of her subjects and characters, in direct contact with reality, in a dreamlike aesthetic, even mythological, sublimated in particular by her frequent use of film.
She anchors her stories in an ascetic rurality, revealing the thwarted relationship between periphery and urban centers, and the fears of individuals in the face of a deeply unequal world. A rich and diversified narrative space, political in essence, inhabited by non-professional actors as much as by the stars of contemporary cinema (Monica Bellucchi, Sergi López).
Masterclass Saturday 22 April at 14:00 - Usine à Gaz 2
---